ThinkOrSwim™ Study Library – Pack 1
Get the most popular ThinkOrSwim™ Studies for MotiveWave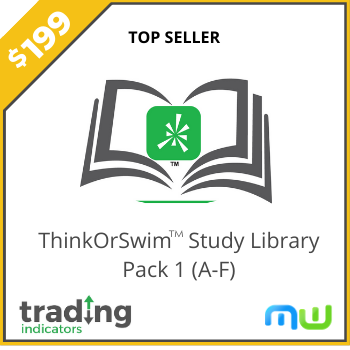 product overview
Part 1 (Studies A-F) from the ThinkOrSwim™ Study Library, now on MotiveWave!
This package contains 70+ studies from ThinkOrSwim™
Unlocks the full power of ThinkOrSwim™ on your MotiveWave platform
Features
Studies are in the same look and feel as ThinkOrSwim™
Great value to enhance your MotiveWave experience
Click here to see the

A-F studies

available with this package
Who Should Use This Indicator:
ThinkOrSwim™ Traders interested in using MotiveWave for charting
Related Product:
Your Purchase will include instant delivery by email and free updates.
Getting Started
Please see the alphabetical listing to see which studies come with this package. Use the following steps to add the studies:
In Main Menu of MotiveWave, go to Study > Add Study
Click on Import in the dialog box
Click on Add in the "Import Studies/Strategies" dialog box
Browse to the location of the installation file
Select the tos-studies-part1.jar file
Once imported, go to Study > ThinkOrSwim. The studies will show up in alphabetical order.
FAQs
How long will it take until I have access to the study? 
After your purchase you will receive an email with the installation file. You can start the installation process immediately as outlined in the Getting Started section. It will, however, take a up to 24h to enable your access to the study set. If you do not have access after 24h, please send us an email at sales@tradingindicators.com
Some indicators of the TOS package are already built into MotiveWave. How do they differ from the indicators in the TOS package?
In the TOS package, the indicators are implemented in the ThinkOrSwim™ look and feel with the ThinkOrSwim™ calculations. Depending on the indicator, this may result in differences between the 2 versions.
When will the next TOS package be available?
We anticipate releasing Package 2 (G-Q) by March 2020 and Package 3 (R-Z) by June 2020.
When will the full TOS library package be available?
Our goal is to release the Full Package (A-Z) by the end of June 2020.
Will the studies expire?
No, the studies are yours forever. No follow-up payments are required.
** Disclaimer **
Please be aware that Trading Indicators is not responsible or liable for any losses. Any products purchased are the intellectual property of Trading Indicators and as such may not be shared, resold or distributed without our explicit permission.
Looking for something specific?
Ask about our custom development.