Candlestick Premium 1.2
Trade smarter by visualizing and analyzing multiple candlestick patterns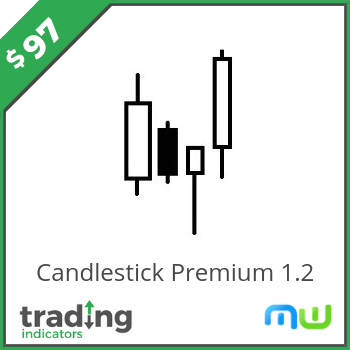 product overview
Use pattern recognition to simplify your trading experience
Visualize and scan 16 different candlestick patterns
Detects Bullish patterns, Bearish patterns, and Gap Patterns
Can be used with MotiveWave Scanner
Provides individual signals and alerts for each pattern
Features
Bullish patterns are Multiple Inside Bar, Morning Star, Piercing Line, Three Outside Up, Three White Soldiers, Bullish Engulfing, Hammer, Rising Three Methods, Bullish Three Line Strike
Bearish patterns are Evening Star, Dark Cloud Cover, Three Black Crows, Bearish Engulfing, Falling Three Methods
Gap patterns are Up and Down
Customize labels and viewing preferences (text, colors, markers)
Who Should Use This Indicator:
Technical traders
Traders who are interested in using candlestick setups
Related Product:
Your Purchase will include instant delivery by email and free updates.
Getting Started
Once you purchase the product, you will receive a link by email to download the candlestick-premium-v1.2.jar installation file. Use the following steps to install the study:
In Main Menu of MotiveWave, go to Study > Add Study
Click on Import in the dialog box
Click on Add in the "Import Studies/Strategies" dialog box
Browse to the location of the installation file
Select the candlestick-premium-1.2.jar file
Once imported, go to Study > TradingIndicators >Candlestick Premium v1.2
FAQs
Will this indicator work with the new MotiveWave 6 version?
Yes absolutely. This study will work with all versions of MotiveWave.
Is this an automated trading system?
No, this is an indicator which will help you in your discretionary trading approach.
Will the study expire?
No, the study is yours forever. No follow-up payments are required.
** Disclaimer **
Please be aware that Trading Indicators is not responsible or liable for any losses. Any products purchased are the intellectual property of Trading Indicators and as such may not be shared, resold or distributed without our explicit permission.
Looking for something specific?
Ask about our custom development.