Trading 360
The idea behind Trading 360
It's difficult to find a single strategy that will secure profits in any market condition. Markets are always changing, and traders need to adapt their trading style to remain profitable.

Trading 360 is an approach to trading designed to help you remain profitable regardless of market conditions.
Market cycles
Trading 360 is built on the idea that price action progresses through three market cycles: trending, reversal, and sideways.
When trending, price makes higher highs and higher lows (during uptrends) or lower highs and lower lows (during downtrends) as price progresses through a sloping channel.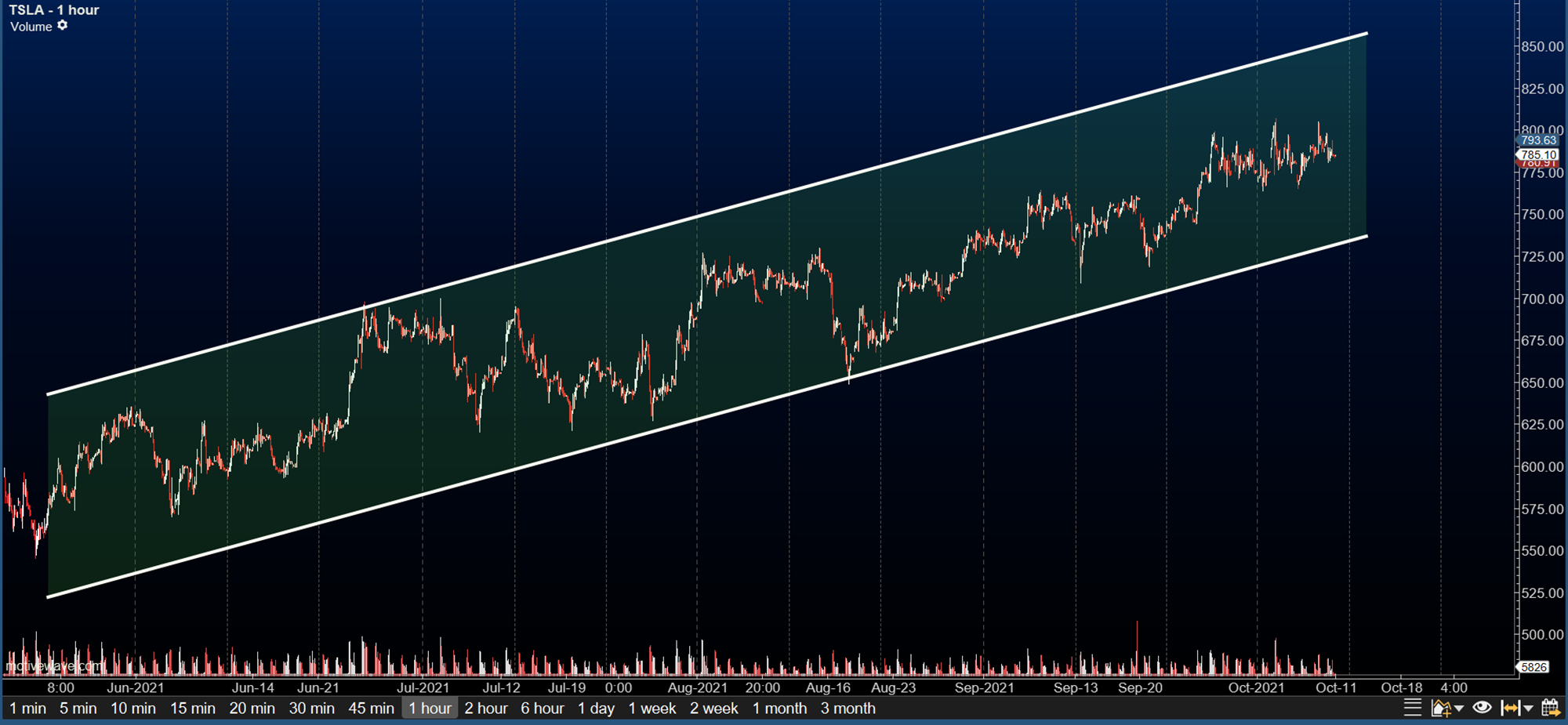 Reversals occur when the trend line or channel which bound the prevailing trend is broken, and price begins to shift in a new direction.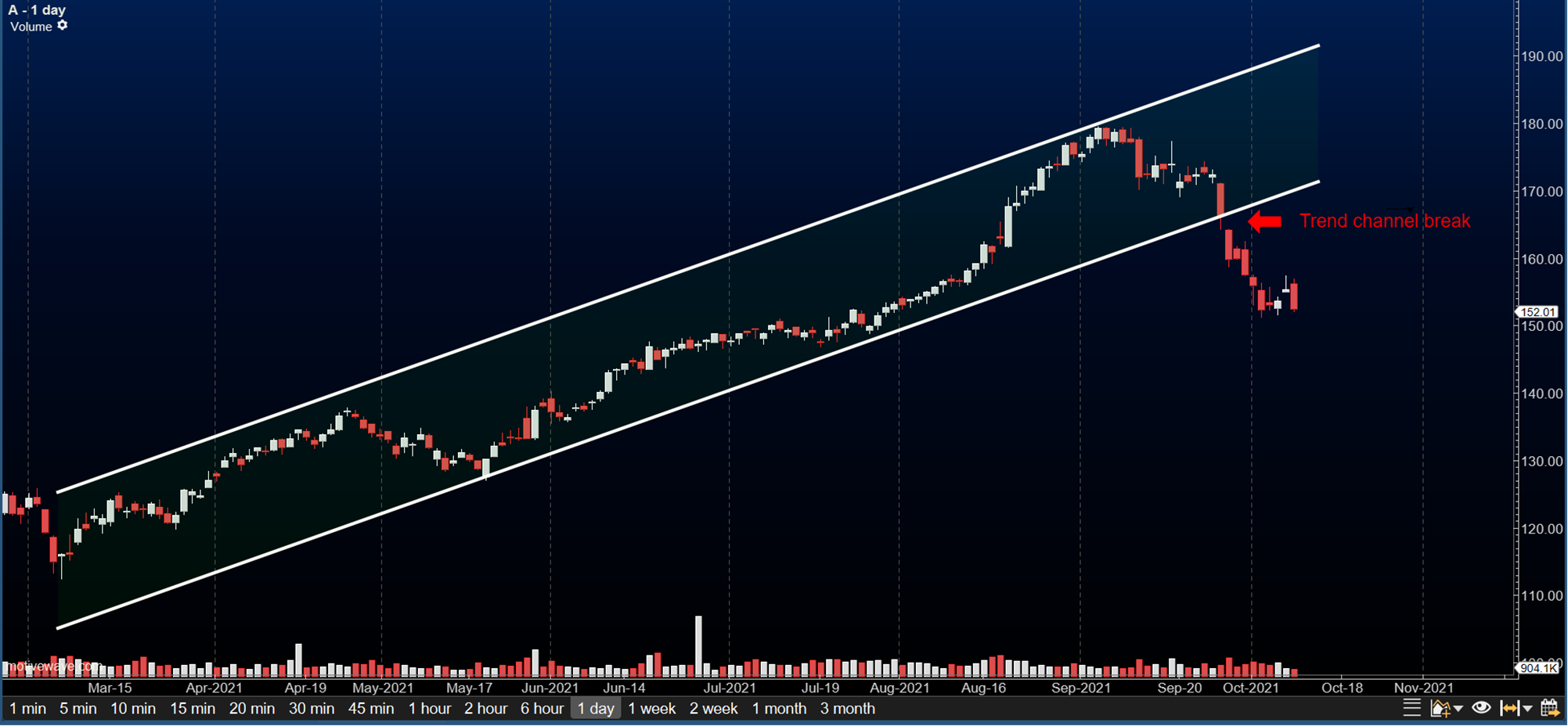 In between these trending and reversal market cycles are sideways markets. Sideways price action generally accounts for more than two thirds of all market conditions.
During these cycles, price remains in a defined range with generally low volume, establishing support and resistance levels before breaking away into an up or down trend.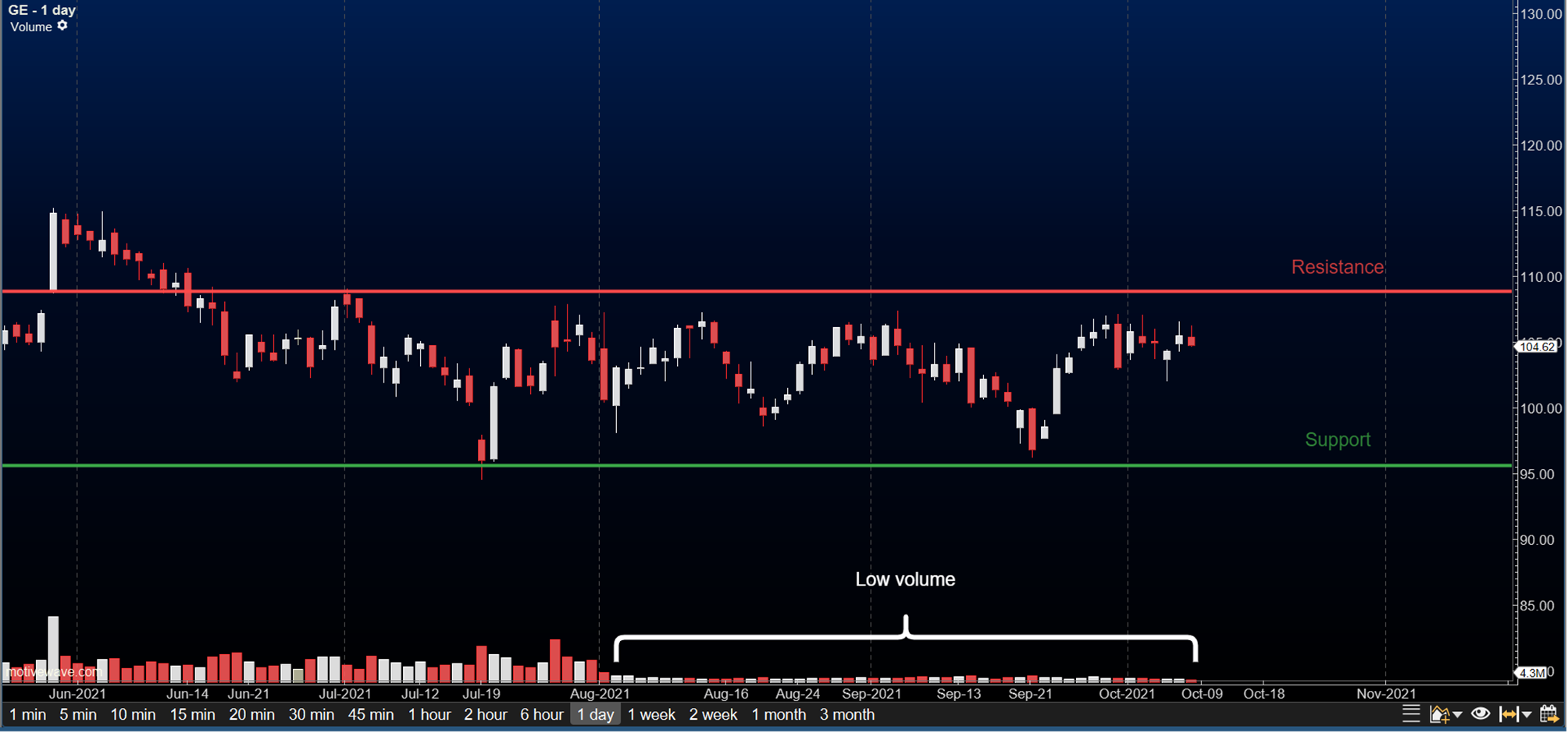 Profit regardless of current conditions
Trading 360 employs the three Market-Sense indicators from our Power Bundle 360: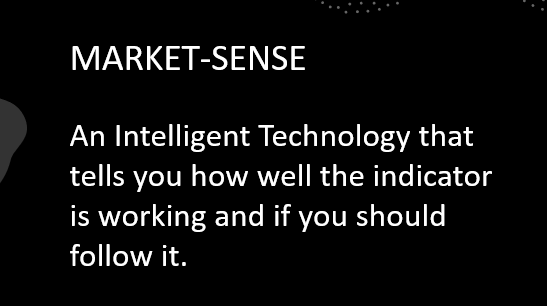 These three tested, profitable Market-Sense indicators generate trade entry and exit signals. Each one is designed to perform best in a particular market cycle.
These are not ordinary indicators.
Market-Sense indicators use our Instant Efficiency Technology (IET) to immediately show you how well they are dialed-in and performing on a particular chart.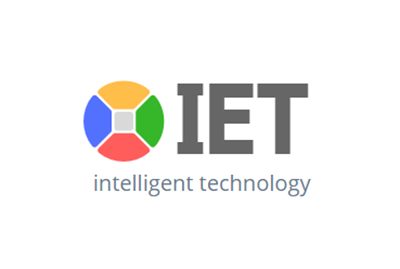 IET calculates the percentage of successful trades taken by the indicators for both long and short trade directions. This percentage is known as efficiency.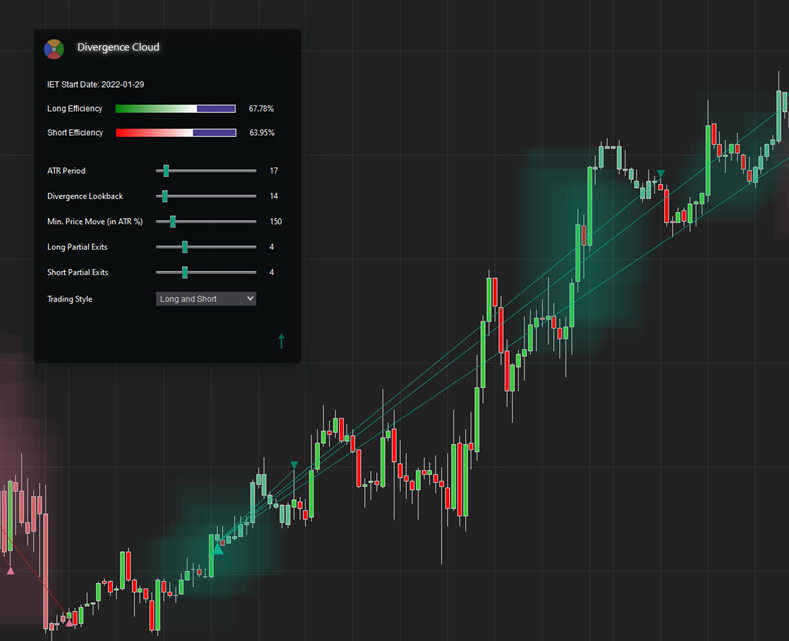 The long and short efficiency percentages are displayed on the chart when the indicators are applied. They tell you how successful the indicators' signals have been for either trading direction. They allow you to immediately gauge how well and reliably the current settings work.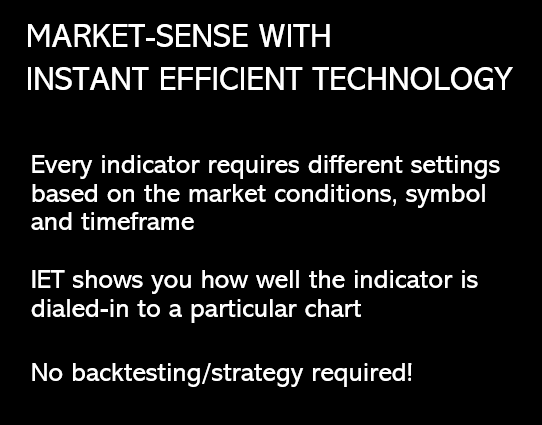 IET statistics give you a heads-up on the current market conditions and whether this indicator (with the current settings) is best-suited to provide you profitable trade signals.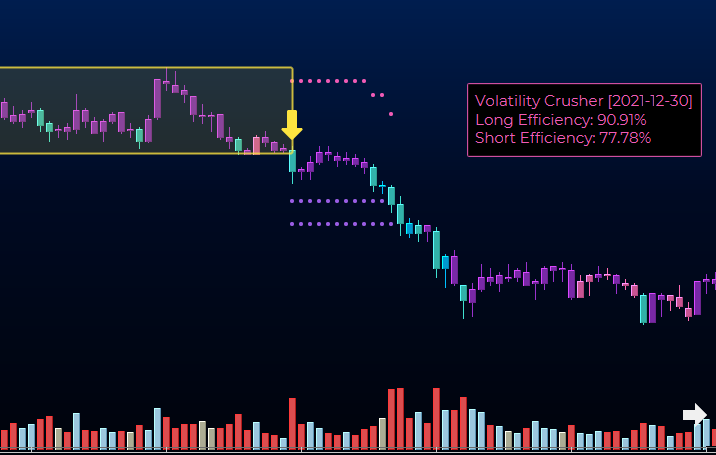 Instant statistics are powerful because they eliminate noise and simplify trading – clearly telling you whether or not you can rely on the indicator's signals.
It's all too easy to make trading more difficult than it needs to be by cluttering up your chart with redundant tools and noise. Trading 360's aim is to make a trading approach as simple as 1-2-3.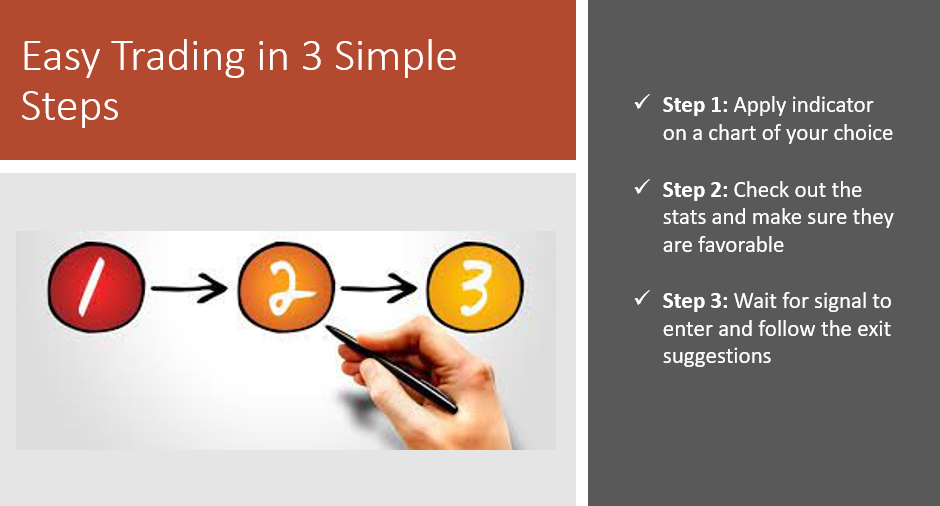 The indicators
Volatility Crusher
Is price about to explode into an up or down trend? Is sideways price action coming to an end?
Volatility Crusher is designed with these types of moves out of sideways markets in mind
It specializes in finding breakouts and breakdowns from tight ranges, where price explodes into a trend. These explosive moments tend to happen after periods of increasingly tight price action – often associated with sideways markets.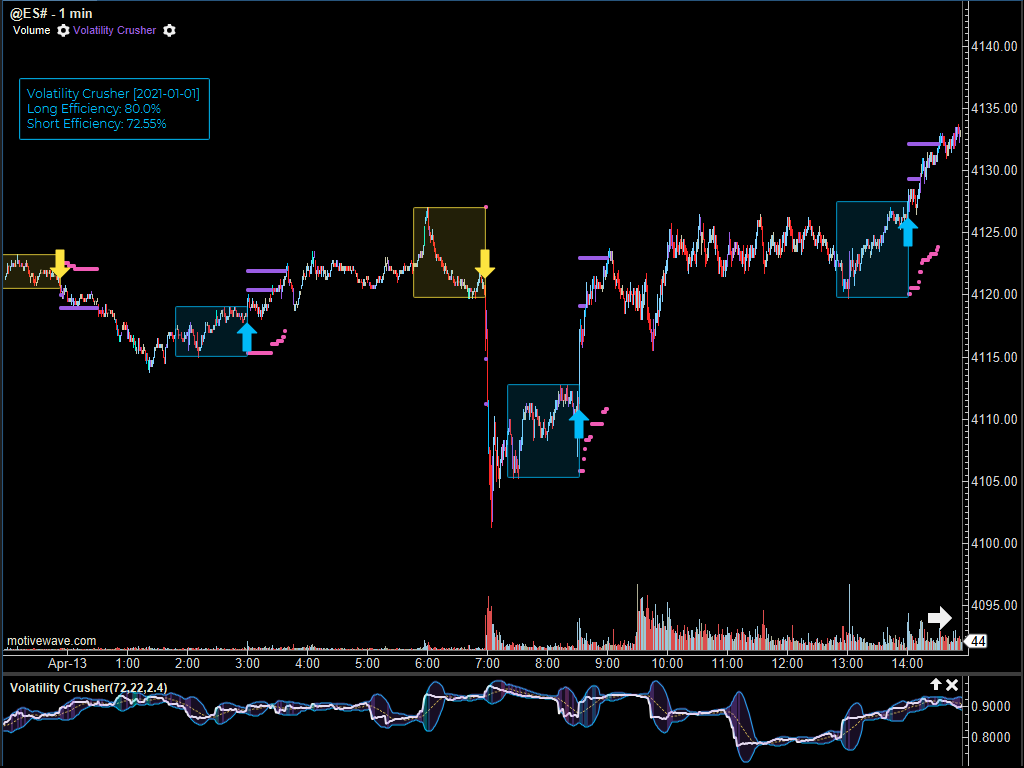 Its approach is all about analyzing the relative compression and expansion of volatility, and it will work on any symbol and time frame.
While Volatility Crusher is great for finding the decisive end of sideways action, its utility doesn't end there. Its relative approach enables it to signal explosive moves regardless of the current cycle, making it the most diverse indicator of the three. Be sure to check out the Volatility Crusher Manual for examples and information.
1-2-3-Strike!
The trend looks strong. Is it too late to get in and ride the wave?
1-2-3-Strike! is the trend-following indicator of the Trading 360 system made for trending markets. It is built to efficiently enter into and scale out of trades along the prevailing trend.
It tracks subtle changes in the three trading dimensions of volume, trend, and volatility. After spotting ideal conditions, it signals trade entries and exits to help you profit alongside the trend. Have a look at the 1-2-3-Strike! Manual for more details about this indicator.
Divergence Cloud
Divergence Cloud is designed to highlight the early stages of trend reversals as well as the strength of the current trend. It can locate healthy consolidation and pullbacks within overarching trends, as well as key turning points prior to total reversals.
It analyzes price, trend, momentum, and volatility to predict the most likely future price action, and then depicts its predictions on the chart with glowing clouds, colors, and entry/exit signals.
It can be used synergistically as a 'confirmation signal' with 1-2-3-Strike! and Volatility Crusher by comparing their signals against the current cloud color, or anticipating a change of trend. Be sure to check out the Divergence Cloud Manual for a comprehensive overview.
Who can use Trading 360?
Our Market-Sense indicators are versatile and can be useful in a lot of different ways. They can complement and improve your current trading style – and if you don't have one, they can provide a complete trading approach for you.
This means that anyone can trade with our indicators: whether you're a new trader, an occasional trader, or a seasoned professional.
New Traders
For new traders or those who are looking for more direct guidance, we stand by the foundations of our three step approach:
Apply one of the indicators
Check the stats, adjust the settings
Trade the signals when stats are favorable and the signals seem logical
Occasional Traders
For the occasional traders who are more interested in finding and acting on outlying opportunities, we recommend using the indicators with your trading platform's scanning capabilities.
After finding promising symbols, the indicators' settings can be adjusted for more favorable IET statistics and trading signals.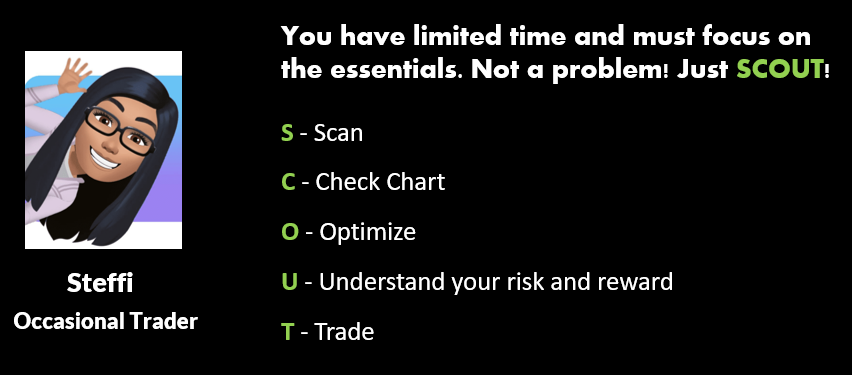 Professional Traders
You might think you've seen it all, but you'll be genuinely impressed with how useful IET is for these indicators. Even if you have your own entry and exit system already established, the indicators will lend more statistical precision and high-probability opportunities to your toolkit.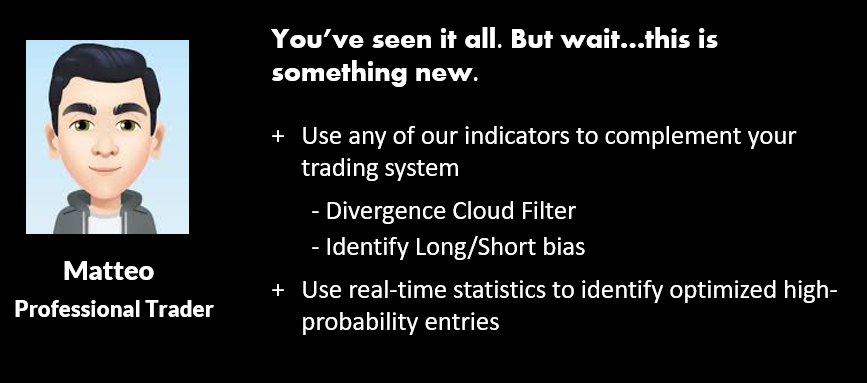 Videos
Trading 360